Member of Maine Association of Mediators
EJD Purdue Global/Concord Law
MBA New Hampshire College/MBA SNHU
ABD Nova Southeastern University - Wayne Huizenga School of Entrepreneurship
Mr. House is President of the Construction Management Institute of Maine, Inc. from 2001 to Current, a construction management and development advisory and Consultancy Company, established in 2001 and relocated from Florida to Maine in 2008; in support of project owners and developers from conceptual planning, construction, financing and turn-key. His Company is traditionally c
ontracted as advisor, consultant, or as Owner's Representative for constructability reviews, project management oversight, supervisory management, construction scheduling, requisition draws and change order oversight, payment administration, conflict resolution, project closeout. Arthur possesses an extensive background in construction and development as Principal/Owner, General Contractor, Project Management, and Supervisory roles. Responsibilities comprised of Site work, Infrastructure Planning, Construction and Oversight, to Turn-Key closeout.
His history of project types encompass Industrial and Commercial Development, Housing Developments, Planned Unit Developments, Multi-Family, Condominiums, Affordable Housing Apartment Complexes, Mid & High-Rise - Concrete Restoration, and Redevelopment of Historic Structures.
Beyond the above, Arts' professional and educational experiences parallel his practitioner experience by his teaching as a Licensed CEU provider to Property Management and Engineering entities for Concrete Restoration (ICRI), and as a Certified Paving Inspector, also teaching as Adjunct Law Faculty and Business Management Faculty at Rochester University, Southern New Hampshire University, and the Construction Management Institute of Maine.
Arthur has taught Construction Contract Law, Business Law, Construction Management, Strategic Planning and Business Development, Construction Project Funding, Financial Management for Construction Cost Containment Concepts and Entrepreneurship for Construction.
Appointed by Haiti's Minister of Environment and Economics, Art collaborated with multiple Haiti NGOs and provided extensive Pro Bono Humanitarian consultation to Haiti firms and major institutions in the US, seeking to provide assistance in the Aftermath of the 2010 Earthquake. Mr. House authored and Developed a Haiti sanctioned, Rehabilitation & Reconstruction Plan with a Budget of USD$1.5 Billion, approved by UNESCO with review and oversight of the Clinton Global Initiative. Facilitated planning and delivery of a floating hotel/dormitory ship to assist in housing medical, Doctors Without Borders, construction and engineering professionals, UN Peacekeepers and USAID Officials. Programs included Demolition and Debris Removal with major recycling program to support construction of Habitat for Humanity homes, implementation of Solar Lighting Programs, formation of Agrarian Farming and Biofuel (Jatropa) production from byproducts, drilling of Artesian Wells, also preliminary planning for construction of schools and medical facilities.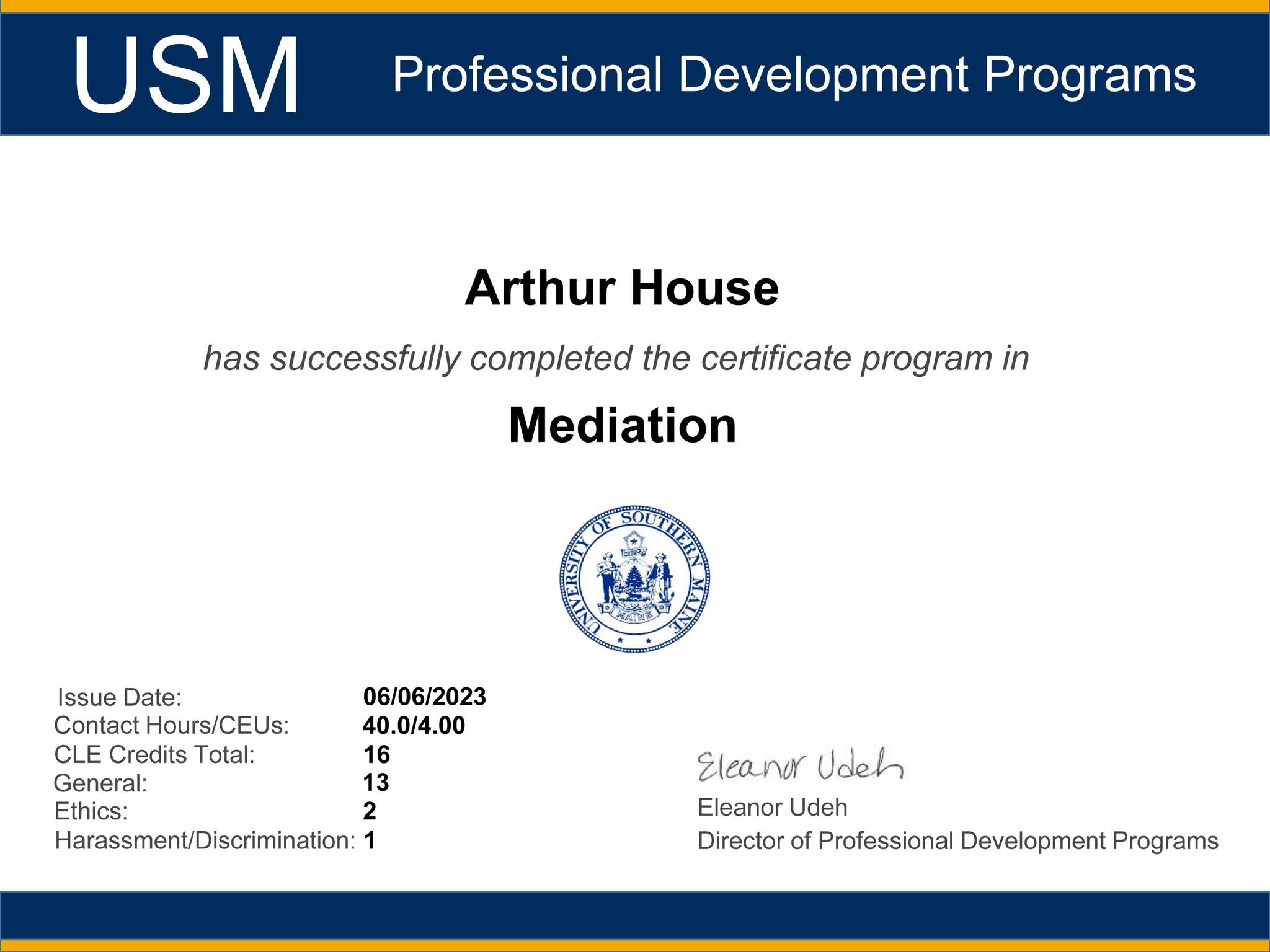 Disclaimer: The author is an Adjunct Law Faculty member, a Mediator but does not practice law as an attorney and as such is not engaged in the unauthorized practice of law, however, he recommends that all his clients and constituents seek their own legal counsel on matters of concern and or in any dispute. Advisory content is not intended to give, and should not be relied upon for, legal advice in any particular circumstance or fact situation. No action should be taken in reliance upon the information contained in this site, without obtaining the advice of an attorney.